You are here
Head of Office/Assistant Representative
Country Representative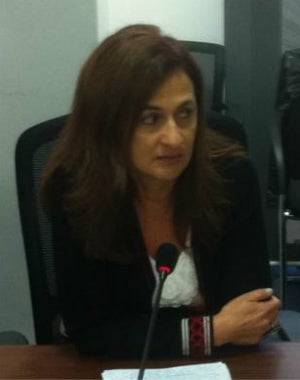 Asma Kurdahi
Asma Kurdahi joined the UNFPA Lebanon office in 1995 and has been in charge of developing, managing and coordinating the subsequent country programmes in partnership with government entities, CSO and UN agencies. Asma continues to advocate for UNFPA's mandate with a wide range of stakeholders on key programmatic areas, namely promoting access to reproductive and sexual health services and information with focus on young people, gender equality and empowerment of women, prevention and response to gender-based violence and supporting the integration of population dimensions in development policies and strategies.
Asma led the UNFPA humanitarian response operation in Lebanon in 1996, 2006 and since 2012 through supporting life-saving interventions particularly for ensuring access to emergency reproductive health services and preventing/mitigating sexual and gender-based violence.
Prior to joining UNFPA, Asma worked in the United States of America between 1990 and 1995 at California State University in Long Beach and the Department of Health Services in Los Angeles as a programme manager and policy advisor respectively on smoking cessation programmes funded by the American Lung Association and American Cancer Society. Asma received her Bachelor Degree in Environmental Health from the American University of Beirut and her Master's Degree in Public Health from the University of California, Los Angeles.