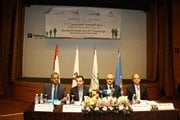 On April 11, the World Health Organization (WHO) launched the annual campaign of the Health Day "Good health adds life to years" under the patronage of Minister of Public Health and Minister of Social Affairs Minister, and in collaboration with UNFPA Lebanon given the Fund's involvement and work in the area of ageing. 
The campaign advocated for the adoption of a fresh look at health data on ageing in order to better understand the needs of older people. It addressed demographics of ageing and the epidemiology of population ageing. The event also called for key governmental actions for healthier and more active ageing.
This event gathered high level stakeholders from the Government, Parliament, trade unions, health and academic sectors. It featured speeches by Ministers of Public Health and Social Affairs, in addition to WHO country representative and UNRC/UNDP/UNFPA Representative. 
In his speech, UNFPA Representative in Lebanon pointed out to UNFPA's role in supporting the development of national strategy for older adults in Lebanon. His intervention shed light on UNFPA's cooperation with the Ministry of Social Affairs since 2008 and the results achieved in the area of ageing while reaffirming UNFPA's continued commitment and support to ensure that the challenges and opportunities of ageing are recognized at the national agenda and that the needs of older adults in Lebanon are met.