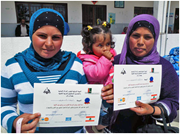 UNFPA-supported Initiative Empowers Women through Literacy.
The southern Lebanese village of Yarine had a special reason to celebrate recently. Its men and women, young and old, joined those of the surrounding villages at the local schoolyard in early spring for a different kind of graduation day – this one for grownups, for women. 
The graduates, 45 literacy women students and coordinators, were also being honoured for their courage and perseverance. They were the beneficiaries of the Women Empowerment: 'Peaceful Action for Security and Stability' (WEPASS), an initiative that helps Lebanese women by building their skills and understanding of decision making, participation, human rights, gender-based violence, reproductive health, economic empowerment and fostering peace. 
WEPASS, which is aligned with UN Security Council resolution 1325 on Women, Peace and Security, was launched in the aftermath of the July 2006 war on Lebanon to help 22 war-affected and under-served villages and communities throughout the country. Implemented by the National Commission for Lebanese Women in partnership with national and local organizations, WEPASS is supported by UNFPA and financed by the Multi- Donor Trust Fund of the Lebanese Recovery Fund. 
In addition to members of the local communities, the Yarine graduation was attended by the ambassador of Norway, Aud Lise Norheim, and representatives from NCLW, Yarine's municipality and the women committees from other WEPASS villages, in addition to the Ghanaian Battalion of the United Nations Interim Force in Lebanon and UNFPA. 
When the WEPASS project started in Yarine – where villagers make a living from tobacco cultivation and have few social and health services – literacy was not foreseen as a priority. It was only upon the insistence of the local women's committee that it became clear that empowerment could not take hold unless illiteracy was tackled as well. Accordingly, the national commission, supported by UNFPA, agreed to conduct literacy training in collaboration with the Ecumenical Popular Education Program, a local NGO specializing in adult literacy and education for development. 
The graduates were enthusiastic about what they had learned. "I never got any education: I was illiterate, completely illiterate," said a smiling Wahiba Hamdan Khalifeh, who is in her fifties. "Little by little I learned how to write my name. Now I can sign, I even signed in the elections." 
"At first, I was ashamed to show the neighbours that I was going to school," said Eva Soueid, a mother of three. "I used to hide my school bag in a plastic one. After a while, I walked proudly with the bag on my shoulder. I knew that there was no shame in learning and progressing." 
Implementation took place in two phases: training of local coordinators on teaching illiterate women, which was followed by the actual teaching of the village women themselves. The literacy sessions were articulated around several themes related to reproductive health, gender-based violence, economic empowerment, rights and women's participation. 
The impact of this programme on each of the 45 graduating women was obvious and vibrant: the graduation ceremony featured poetry recitals, theatre plays, an art exhibition, applauses and discreet tears of joy. "It was a fantastic event," said Ambassador Norheim. "One of the best I have been to. The women had such personal features; they were such strong voices. It was fantastic." 
The mood at the event demonstrated that the empowerment process had already been triggered, that it was based on solid foundations, and that it was well on track. "These women have guts, and they want results," said Ambassador Norheim. "They will not go back." 
The programme was significant in another manner: It underscored the potential of Yarine's women committee, which was not only able to identify an urgent community need, but to also address it successfully. UNFPA's next goal would be to support and consolidate this potential.