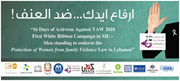 From November 25 till December 10, Lebanon joined over 55 countries around the world by organising the first White Ribbon Campaign in the Middle East. The focus of the campaign was on mobilising men and boys to endorse the draft law on the Protection of Women from Family Violence.
A wide range of activities were planned during the 16 day period: a television documentary, songs on the radios, public awareness sessions, wall graffiti by survivors of violence, educational pit stops, distribution of various promotional materials as well as a massive White Ribbon Campaign including 475 billboard and unipoles throughout the country. In addition, a human chain was organised during the closing ceremony where women and men stood hand in hand in a message of solidarity to support the law.
The campaign was carried out by KAFA (enough) Violence & Exploitation, the National Coalition for legislating protection of women from family violence and Oxfam GB, in coalition with the Lebanese Ministry of Social affairs, UNFPA Lebanon, UN Trust Fund for Ending Violence Against Women, International Medical Crops, UNIFEM Jordan, OHCHR Lebanon, the Italian Embassy in Beirut, the Australian Embassy in Beirut and Kvinna Till Kvinna. Five universities also took part in the campaign.