"We never put ourselves first. We always think about our families and our husbands, it's so nice to be able to think about ourselves and our hobbies."
These are the words of Hadia, a participant at a psychosocial support session for women in the Bekaa region. Like many of the other attending women, Hadia spent most of her life caring for others, giving little thought to her own needs and interests. These sessions, provided by UNFPA Lebanon and its partner ABAAD, aim to improve women's psychological well-being as well as their knowledge and skills through a series of activities focused on self-esteem, decision-making, time management, and creativity.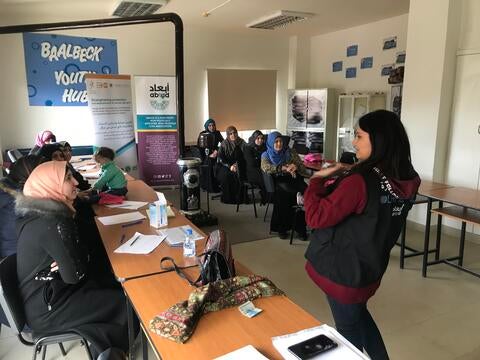 With the partnership of the Ministry of Social Affairs, and through the generous contribution of the Government of Norway, the psychosocial support sessions take place at Social Development Centres in Baalbek and Ras Baalbek. The impact can be life changing.
"We target the most vulnerable Syrian and Lebanese women and girls," says Jouhayna Dawaliby, Reproductive Health Coordinator at UNFPA Lebanon. "We are adopting an integrated approach of reproductive health and gender-based violence, so we provide a comprehensive service package, and these sessions give the women a sense of empowerment and self-realization."
 With approximately eight to 10 women in each group, the psychosocial support cycle is based on a Basic Life Skills Programme (BLSP) that aims to         improve women's knowledge and skills in order to prevent and protect against violence, and to amplify their roles in building a positive, non-violent community. The programme includes seven modules covering a range of thematic areas, notably self-empowerment, gender equality, feelings, communication, community, health and adolescence, with many participants telling their stories through art.
Such is the case of Mariam, who stands in the center of the room, holding up her artwork as she talks about her hopes and dreams.
"The two [greatest] achievements in my life: raising my children well and teaching them love and forgiveness, as well and making my mother and father proud. The greatest event in my life is when I took my son to the hospital to have surgery and he started bleeding – eight hours later the doctor told me that he survived," she says as others around her used words of encouragement.
"After today, I will not let anyone take advantage of my kind heart and interfere in my life."