Over the last three years, UNFPA and its partners have been working across Lebanon on sensitization and awareness raising to empower individuals and communities to take informed decisions on family planning, to empower women and girls, and to combat early marriage.
Because of the advocacy efforts led by UNFPA and its local partners, a growing number of municipalities are pledging to support gender equality and combat early marriage in their communities.
The head of the Union of Dinnieh Municipalities in North Lebanon, Mohammad Saadieh, has been a leader in his community, and along with 9 heads of municipalities, signed the pledge.
"Today, in cooperation with amazing partners, our slogan is focused on change. We are working towards change. We are working towards achieving girls' and women's health rights," Saadieh said.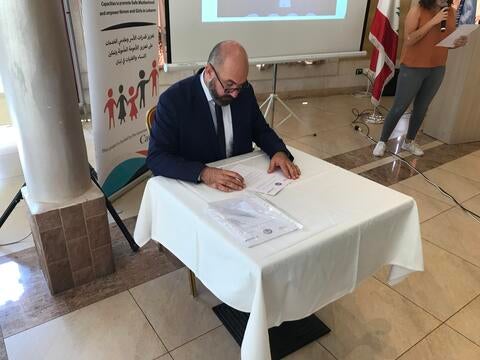 In Jabal al-Sheikh in the Bekaa, the head of the Union Sheikh Saleh Bou Mansour has also been a key leader in promoting gender equality in his community.
"We are proud that the Union of Municipalities is taking the lead [in Jabal al-Sheikh] in empowering women and youth," Bou Mansour said.
There has been an alarming increase in the number of young girls married before the age of 18, some even before the age of 15, in Lebanon, especially following the Syrian crisis. Early marriage directly threatens a girl's health, as pregnancy often follows marriage, and young girls are not ready either physically or mentally. In developing countries, complications arise from pregnancy and childbirth, the leading cause of death among adolescent girls aged 15 to 19. Young girls who are married early are also forced to drop out of school so they can take on household responsibilities, leading to increased poverty, worsening educational levels and health status, and the overall financial and economic situation of families.
Since 2017, 25 municipalities have pledged support to women's empowerment. UNFPA Lebanon continues to work with women, men and youth to ensure women and girls' rights are met and to combat early marriage.